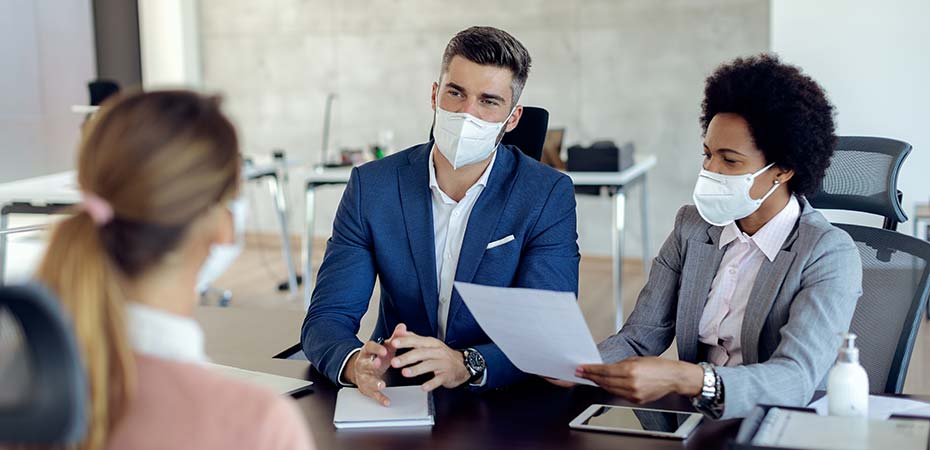 Last year was tough on recruiters. The pandemic and its repercussions devastated some talent acquisition teams, heaped new demands on others, and proved to be a historic change agent as virtually recruiting and onboarding a remote workforce became the norm for many.
2020's adversities will certainly inform talent acquisition trends in 2021. More companies will adopt virtual recruiting technologies; shift talent attraction efforts to remote candidates; consider internal talent pools; and focus on diversity, equity and inclusion. The best recruiters will take the opportunity to add new skills, adapt as needed and show their value to the organization.
Over 1,500 talent acquisition professionals from 28 countries identified these trends in a survey conducted by LinkedIn and supplemented by data generated by more than 760 million members on the professional networking site.
Daniel Chait, CEO of New York City-based Greenhouse, one of the fastest-growing recruiting software providers, envisions the talent acquisition function playing a major role in what he calls the "great rehiring."
"When COVID is mitigated and life can start returning to normal, businesses will need to quickly gear back up," Chait said. "If things go well, it's possible that more people will re-enter the workforce in 2021 than in any single year on record."
Virtual Hiring Is Here to Stay
In the same way that a hybrid workforce of onsite and remote employees will become more normalized, a hiring process that combines virtual and in-person processes will become increasingly standard due to the associated cost and time savings, according to 70 percent of respondents to the LinkedIn survey.
"Job interviews will largely continue to be conducted virtually," said Candace Nicolls, SHRM-SCP, senior vice president of people and workplace at Snagajob, a Glen Allen, Va.-based online staffing platform that specializes in matching candidates to hourly wage jobs. "Even for businesses resuming in-person operations, I expect that virtual and automated interviews will instead replace many in-person touchpoints, helping to accelerate timelines while also providing a critical layer of safety as we continue to observe social distancing rules."
Ryan Healy, president and co-founder of Brazen, a virtual hiring event platform, said virtual recruiting in 2020 helped organizations streamline recruiting processes, improve diversity hiring and hire better talent by reaching across geographic barriers.
"These gains mean virtual recruiting has earned its place in the ongoing talent acquisition strategies of nearly every industry across the country, and employers will continue to use virtual recruiting alongside more-traditional in-person recruiting and interviewing once it's safe to meet with candidates face to face again," he said.
But Addison Group CEO Thomas Moran contends that the future workplace will be less remote than many are forecasting. "As the COVID-19 vaccine takes hold, people will welcome a return to the office to be with their colleagues," he said. "While the pandemic may have taught us just how resilient we can be working remotely for an extended period via Zoom conference calls, it is not sustainable. Humans are a social species and ultimately need that direct, in-person contact and connection with one another."
Companies Will Emphasize Internal Hiring
Internal mobility is up 20 percent since the onset of COVID-19, according to LinkedIn data.
In addition, 50 percent of respondents expect their recruiting budget to decrease this year while 66 percent anticipate their learning and development (L&D) budget to increase or stay the same. Some experts believe that employers will build their workforce through internal mobility programs tied to reskilling initiatives or engage contingent talent instead of hiring externally. Others predict that companies will continue to move from static jobs toward project-based, cross-functional work dictated by changing business needs.
Increased engagement, lower costs and a shorter hiring process are a few of the benefits of the shift to internal mobility, but the biggest benefit may be improved retention, said Mark Lobosco, vice president of talent solutions at LinkedIn. "Our data show that employees stay 41 percent longer at companies that hire internally compared to those that don't," he said. "As companies continue to experience the benefits of internal mobility, we'll begin to see it shift from an ad hoc solution to an essential corporate strategy. This will lead to HR and L&D partnering closer than ever before to better understand existing skill sets, address skill gaps in their organization and build more robust internal mobility programs."
David Green, executive consultant on people analytics and director at Insight222, a London-based consulting firm, suggested that "skills are the new currency" in the workplace, and companies like IBM, Novartis and Unilever are building cultures where skills are of central importance. "To achieve this, they have brought siloed HR programs such as learning, career and internal mobility together with skills and technology that enables personalization to create a thriving marketplace for talent," he said. "With the pandemic increasing the focus even more on internal mobility, the rise of the talent marketplace will gain pace in 2021."
Tim Sackett, SHRM-SCP, president of HRU Technical Resources, an engineering and design staffing firm based in Lansing, Mich., agreed that building internal talent will ultimately be better in the long run, but acquiring new talent through external hiring or contingent staffing is the best bet for a volatile short-term outlook.
"2021 is not the time to decide to build talent, at least not in the first two quarters," he said. "Most organizations have already started renting talent, and we see contingent labor as a percent of the workforce rising as organizations determine how the economy will come back. In 2021, organizations want to make sure that the organization can sustain itself in the long term before adding permanent headcount. The focus on hiring more contingent is a better strategy over the next 12-18 months, to ensure they will have much more flexibility and the ability to move quickly to move their headcount up and down based on immediate business needs."
Recruiters Will Play a Bigger Role in DE&I
Diversity, equity and inclusion (DE&I) will be a continuing focus area for recruiters, especially because more candidates will make job choices based on their assessment of a company's visible DE&I commitment, according to experts.
"Companies recognize that they are being scrutinized more than ever by stakeholders and are committing to aggressive diversity targets," said Dan Schawbel, a bestselling author and managing partner at Workplace Intelligence, a New York City-based HR research and advisory firm. "This year, 70 percent of job seekers said they want to work for a company that demonstrates a commitment to diversity and inclusion."
Nearly half (47 percent) of talent professionals told LinkedIn that hiring managers are not held accountable for interviewing a diverse slate of candidates. Some experts believe that more recruiters will work to remove arbitrary entry barriers like educational requirements from job qualifications, advocate more for a diverse pipeline of candidates and hold hiring managers accountable for moving those candidates through the hiring process.
"Diversity is a business-critical imperative and one that recruiting can lead," Lobosco said. "Not only is it imperative that recruiters deliver a diverse pipeline of candidates, but they must also play an important advisory role for the hiring managers they support. This could be through restructuring hiring processes to reduce bias, building diverse interview panels and mandating data-driven reporting against diversity goals."
Cheryl Roubian, vice president of people at Greenhouse, said more companies are looking for tools to help them root out bias in the hiring process and build systems that promote and develop employees equitably. "This is far from being a new idea, but the confluence of increased awareness, the availability of talent and geographic flexibility will continue to amplify the importance of investing in the right tools to build more diverse teams."
Recruiters Will Expand Skill Sets
The No. 1 skill for recruiters to embrace in 2021 is adaptability, according to LinkedIn's survey.
"This isn't surprising, given the challenges we faced last year," Lobosco said. "Recruiters are rapidly adding skills like bringing clarity to talent data, reshaping employer branding and fine-tuning the virtual hiring process."
Notably, the fastest-growing pivot for recruiters during the pandemic was personal development.
"We saw recruiters massively increase their appetite for learning as soon as COVID-19 hit last March, more than doubling their normal learning consumption in the following months," said Johnny Campbell, CEO of Dublin-based SocialTalent, a learning platform for recruiters. "Hot topics included talent advisory training, virtual interviewing, being productive while working remotely, virtual onboarding and internal mobility. Learning how to be better talent advisors is always a popular topic for recruiters, but many more sought it out for the first time as their hiring managers frantically reached out to them with a massive demand for information about the evolving labor market."
Colleen Garrett, SHRM-CP, was a recruiter at a retirement community in Fort Myers, Fla., where hiring slowed down considerably as the coronavirus spread. She said she looked at the downtime as an opportunity to "think outside the box."
"It was a time to take a step back, audit processes, figure out what had been working in the past, what hadn't been working and how the future was going to change," said Garrett, currently a recruiter at health care staffing provider Clipboard Health.
She spent time rethinking talent strategy, learning how to integrate new talent acquisition tools to workflows, developing training manuals, and learning about topics like social recruiting and how SEO factors into job posts.
She recommends that recruiters in 2021 spend time developing skills in virtual interviewing, onboarding new hires, understanding talent metrics, and showing empathy and compassion.
"Naturally, recruiters are people-centric," Garrett said. "But 2020 wasn't just hard because of the pandemic, but also because of the economic fallout and all the people who are jobless or displaced in their career. It is our duty to go the extra mile, to understand their struggle and what their needs are."
Nguồn: Roy Maurer
Được thành lập từ năm 2011 bởi ông Hoàng Văn Nam, Headhunt Việt Nam đến nay đang ở vị trí hàng đầu trong lĩnh vực tư vấn nhân sự đại diện cho ngành Dầu khí, FMCG và Sản xuất tại Việt Nam. Headhunt Việt Nam phục vụ hơn 500 khách hàng doanh nghiệp, bao gồm các công ty đa quốc gia lớn cũng như các công ty hoạt động tại Việt Nam, Đông Nam Á và hơn 1 triệu người tìm việc.
Đội ngũ của chúng tôi đa dạng các thành viên ở nhiều lĩnh vực, đề cao một môi trường làm việc cởi mở và chia sẻ kinh nghiệm lẫn nhau để mang lại trải nghiệm tốt nhất cho khách hàng.
Nếu bạn cần một dịch vụ tư vấn nhân sự chuyên nghiệp, hoặc đơn giản bạn muốn tìm cho mình một công việc hấp dẫn, đừng ngần ngại liên hệ cho chúng tôi tại info@headhuntvietnam.com