Vietnam is an emerging tiger in Asia as a new manufacturing powerhouse and an attractive destination for foreign investment in recent years. Apart from its rapid but stable economic growth, Vietnam's abundant low-cost workforce is the key comparative advantage for the manufacturing transition trend from China and other countries to Vietnam. But Vietnam manufacturing manpower is much more than that…
Abundance of young workforceVietnam is a home to more than 90 million people, in which 69.4% of population are in working age (from 15-64 years old) (as late of 2014 – Source: General Statistics Office of Vietnam). This demographic 'golden age' opens up promising opportunities for both domestic and foreign enterprises which are planning to penetrate Vietnam market and expand businesses or move operations to Vietnam.

image: http://vnmanpower.com/upload_images/images/Blog/vietnam-workforce-by-economic-activities.png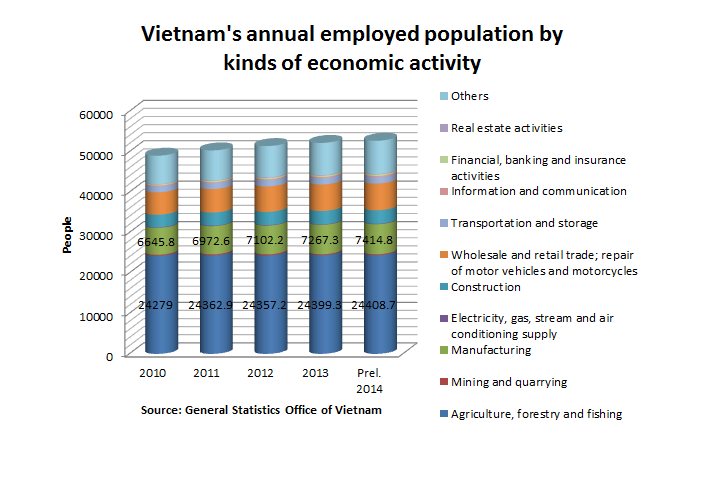 Low labor cost compared to other countries
As mentioned in the previous article about Vietnam manufacturing industry, Vietnam has witnessed a shift of production of many giant manufacturers from China to Vietnam since China is losing static comparative advantages of a low-end manufacturing hub. At a glance, the fast growing Southeast Asia country seems to be in the situation of China of ten years ago as the world's factory especially thanks to young, low-cost workforce, the most appealing factor to foreign manufacturers.
image: file:///C:/Users/Phunm/AppData/Local/Temp/msohtmlclip1/01/clip_image003.jpg
image: http://vnmanpower.com/upload_images/images/Blog/Vietnam-comparative-advantages.jpg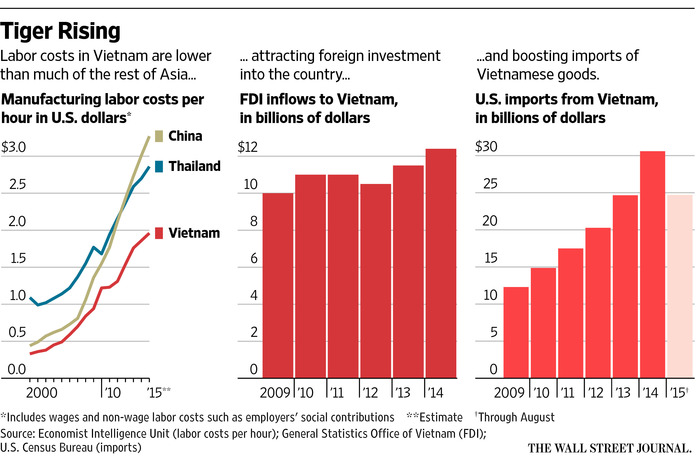 Vietnam labor cost is about a haft of its neighbors China and Thailand. Although Vietnam's minimum wage is on the rise year on year, but it's still much lower than other countries while the manpower quality has only slight difference.
Willing-to-learn, trainable and continuously-upgraded workforce
image: http://vnmanpower.com/upload_images/images/Blog/vietnam-high-quality-manpower.jpg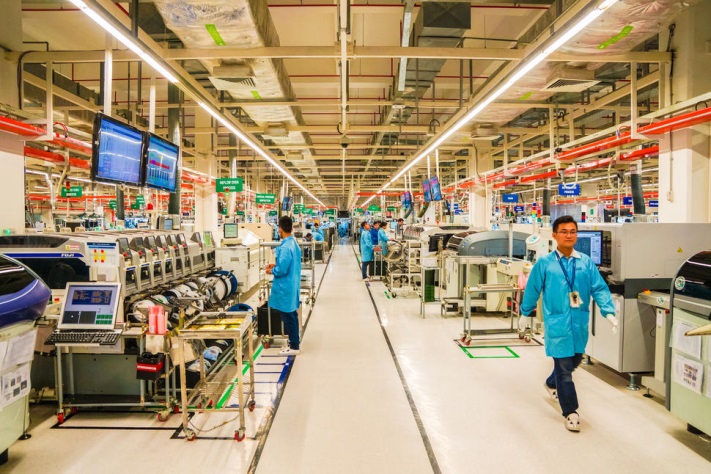 Foreign manufacturers used to worry about skills shortage in Vietnam in the past. However the skills gap of Vietnamese workers is bridging every year. In term of education and training, Vietnam's labor force can be divided into 2 types: manual workers and high quality workers. According to statistics in 2010, Vietnam had 20.1 million trained workers account for 40% of 48.8 million people in the workforce. The rate had a rise of 11.6% to 51.6% workforce as the late of 2015; Vietnam Ministry of Labor, Invalids and Social Affairs (MOLISA) announced.
Skilled manpower in key competitive manufacturing industries
Garment, textile, footwear
image: http://vnmanpower.com/upload_images/images/Blog/textle.jpg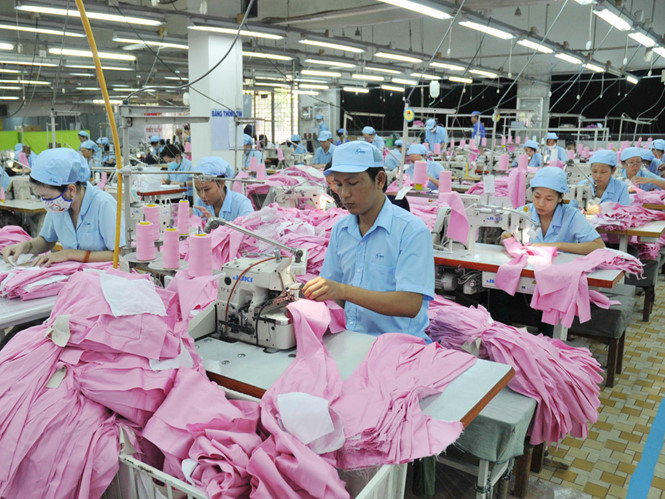 Vietnam was considered as the vital alternative outsourcing destination for China, but it isn't necessarily true for now. There's no denying that made-in-Vietnam products are mostly low-end ones with low added-values such as garment and textile, footwear, food processed products, etc. After participating in TPP, Vietnam's garment, textile and footwear industries will reap the greatest benefits from this trade agreement. Vietnamese workers are well-known for their clever hands and detail-oriented working style, which is one of the reasons more and more leading garment, textile and footwear manufacturers chose Vietnam to become their biggest production hub.
Electronics
image: http://vnmanpower.com/upload_images/images/Blog/manufacturing-mobile-phones-at-sumsung-electronics-vietnam-plant-in-bac-ninh-photovna-1380883-samsung-electronics.jpg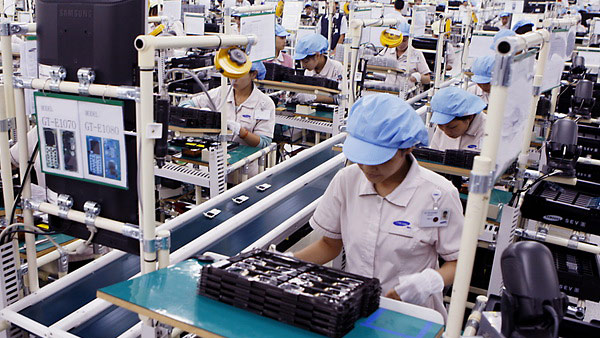 Vietnam has been transforming itself to become a rising electronics manufacturer and the next Silicon Valley in Asia, which attract young, dynamic and well-educated local workers.  Electronics giants such as Samsung, Microsoft, Intel, LG, and Panasonic have already set their production plants in Vietnam. Most of their employees in Vietnam, from managers at different levels to assembly workers are locals, which can reflect their trust in quality of Vietnam labor force. Vietnamese people are also able to accommodate complex, high-end production which was responsible by foreigners in the past. It's easy to find Samsung made-in-Vietnam smartphones all over the world. Domestic phone manufacturers such as BKAV, VNPT Technology also announced their made-in-Vietnam smartphones B-phone and Vivias Lotus S1 1-3 years ago as remarkable milestones in Vietnam's high technology field.
Automobile
image: http://vnmanpower.com/upload_images/images/Blog/automotive-manufacturing-worker.jpg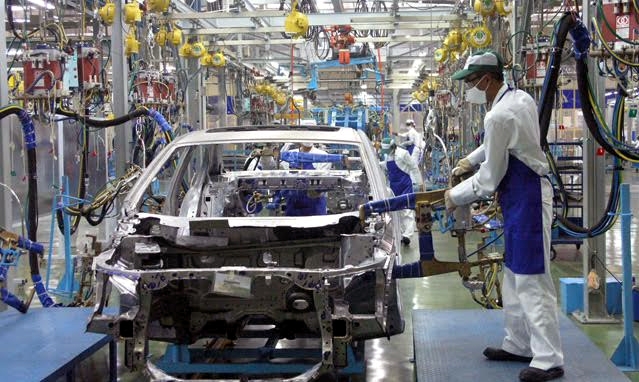 After 20 years of development, Vietnam automobile manufacturing industry has gained considerable achievement in increasing localization rate to more than 30% (varying on models). It's not by chance that most of big auto manufacturers in the world such as Chevrolet (General Motors), Ford, Mercedes-Benz, Toyota, Mitsubishi, Suzuki, Nissan, Hyundai shared a strategy of setting plants and moving productions to Vietnam. Along with preferential incentives, they must rely on the quality of Vietnam manpower before making Vietnam an essential part of their global value chain. At present, more than 100,000 people are working in Vietnam automotive industry including assembly workers, engineers, and managers at different levels.
Shipbuilding
3200 kilometers of coastline is a natural advantage which allows Vietnamese workers access to shipbuilding techniques in early time. Thanks to the rapid development of education and training system in recent years, Vietnamese young generations in general and shipbuilding young workers in particular now can learn and practice the latest technology in the world. Vietnamese shipbuilding workers successfully built Molniya Missile Corvettes which meet the strictest world-class quality requirements.
image: file:///C:/Users/Phunm/AppData/Local/Temp/msohtmlclip1/01/clip_image011.jpg
image: http://vnmanpower.com/upload_images/images/Blog/hq-378-vietnamese-built-missile-corvette.jpg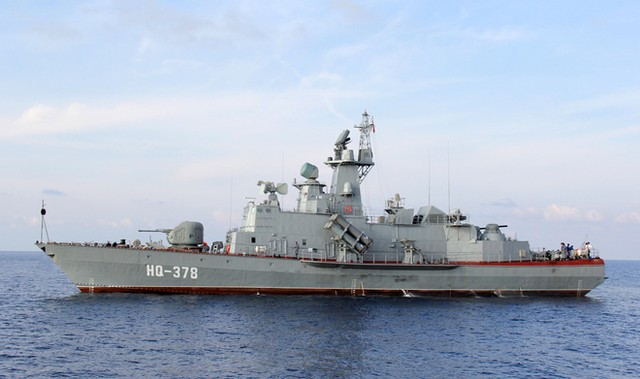 HQ-378,  Vietnamese-built missile corvette under license of Russia
Traditional traits of hardworking, intelligence, cleverness in combination with industrial working style
Hardworking, smart, clever and disciplined are some of common traits of Vietnamese people. Being an agriculture-based country, Vietnam's impressive rapid socio-economic development since market-oriented reform 1986 (Doi Moi) couldn't separate from human resources factor. The great combination among intelligence of Vietnamese people, diligence of farmers, adroitness of handicraft makers and high sense of discipline learned from industrial working style makes Vietnamese labor in general and Vietnamese manufacturing workers best candidates to work in manufacturing industry.
image: http://vnmanpower.com/upload_images/images/Blog/Vietnamese-labor-traits.jpg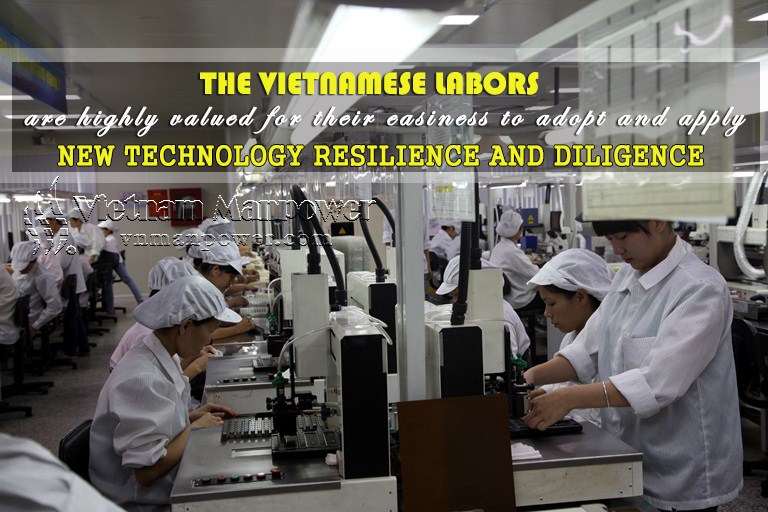 Vietnamese determination, persistence, ingenuity and discipline during wars
Vietnam's glorious history of struggle against France, Japan and the US and their allies saw not only chauvinism, determination but also ingenuity and quick adaption of Vietnamese people in general and Vietnamese soldiers in particular. During wars, a large number of weapons of Vietnamese troops were home-made and continuously improved from weapons captured from enemies. Some of them were directional type mines and unexploded bombs, home-made guns and grenades, which contributed to the final great victory of Vietnam military and people.
image: http://vnmanpower.com/upload_images/images/Blog/vietnam-war-home-made-weapon.jpg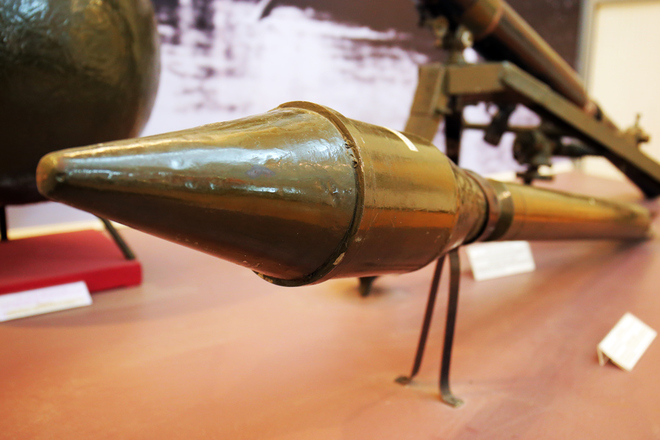 Ammunition for 81mm SKZ (recoilless rifle) was made by Vietnam Military to be used in Vietnam War against the US.
Nowadays, 41 years after Vietnam War and 30 years since economic reform, Vietnam workforce continues keeping their good traits and up-to-date latest knowledge and technology in the world. Inspired by sparkling achievements of Vietnamese people all over the world, Vietnamese workers in general and manufacturing workers in particular are willing to learn new things and improve professional style of work with industrial disciplines to perform the best to the overall development.
Source from VNManpower